Over the weekend, I was catching up on some blogs and I noticed this awesome Link-up by Jenni over at Story of My Life. The challenge is to Blog Everyday in May. SOOO I thought I would give it a shot! So with here are Days 1-6.

Day 1: The story of your life in 250 words or less
I was born in Michigan on July 24th, 1985. I was spoiled raised by my entire family since I was so awesome and people just loved me! 🙂 I went by the name Jessie for longest time but then decided to go by my actual name Jessica. I went to the same Highschool as my entire family, Lets Go Rocks!! I have lived in many different states throughout my life (Michigan, Ohio, Maryland, Arizona, Florida, and Texas) but Michigan will always be my home with Texas being right behind it. I got married to my highschool boyfriend but realized that we were not meant to be together. Learned a lot and it made me the person I am today. I have lived in Houston since 2005 and didn't like it too much the first couple of years. HA Then I met the love of my life in 2008 and with his help, I have started to appreciate Texas for all its worth, however, I am still trying to get use to the heat. He proposed in April 2010 and we have been married since November 2011. We have 4 fur babies, 2 dogs (Bella and Ali) and 2 cats (Simba and Tinkerbell). We are currently expecting our first little one, Colton, in June and we just can't wait to meet him! I love scrapbooking, crafts, reading, movies, concerts, country music, NKOTB, shopping and am very addicted to Target. I can't wait to see what else life brings my way!
Day 2: Educate us in something you know alot about or are good at. Take any approach you'd like (serious and educational or funny and sarcastic)
Hmm… this is a hard one!
I would say I am good at educating people about Michigan's apple orchards but more importantly the Apple Cider Donuts and Apple Cider. I have a passion of discussing this topic with anyone who will listen. I love explaining to non-Michiganders all about going to the apple orchards, getting fresh made cinnamon and sugar donuts with a large glass of apple cider or better yet an apple cider slushie! There is nothing like the fall time in Michigan but what makes the fall colors even better is enjoying cider and donuts!
Day 3: Things that make you uncomfortable
I wouldn't say a ton of things make me uncomfortable but there are def a few that pop in my head right away.
Large groups of people. I just start to feel really uncomfortable around large groups of people. Maybe it's because I was use to being by myself as a kid, but I just don't like being surrounded by strangers. Now with that being said, I love going to concerts and things like that. Makes no sense but it makes sense to me. HA 

Trying new foods! AHH  I hate it! I am the pickiest eater ever and I hate trying new foods. I honestly start to feel very uncomfortable and start to panic when I have to try new foods.
Public speaking. I hate talking in front of classes and groups. I have taken like 5 speech classes and it just doesn't get better.
Day 4: Favorite quote (from a person, from a book, etc.) and why you love it
One of my favorite quotes is from a Harry Potter.
I just love the message and I think it is very positive. You create your happiness and you just have to remember to find it.
Day 5: Publicly profess you love and devotion for one of your blogger friends. What makes them great? Why do you love them? 
I have never met any bloggers in person, so I guess I don't really have any blogger friends. 🙁 BUT I will tell you some of my favorite blogs that I read and maybe I will meet them one day! HA
Beautiful Mess
A fellow Houston blogger! She is super funny and I love reading her blog posts.
Keep Calm & Carry On
She is BFF's with Stephanie over at Beautiful Mess. She has one of the cutest dogs I have ever seen!!
The Girl in the Red Shoes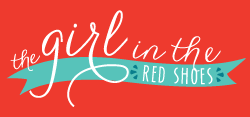 Julie is a new mom and I love reading all the posts about her cute son Hudson!
The Daily Tay
She is HILARIOUS! I look forward to reading her posts everyday!
Day 6: If you couldn't answer with your job, how would you answer the question, 'what do you do'?
Without saying my job, what do I do? I try to have fun in everything I do. When I am not a work, I bake, craft, decorate, shop, spend time with friends, travel, go to Target, go to the movies, spend time with my animals and husband, go to Target.. HA
I try to live life to its fullest. I mean you never know when you might not be able to do something so why not enjoy it while you can. There is nothing better than spending the day with Brent laughing and just having fun!
Until next time!
Love,
Jessica AKA Mrs. Ripple