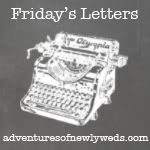 Dear Ali, I am not sure what is going on with you this week but enough with the going potty in your kennel…. PLEASE!!!! You are no longer a puppy and well beyond the potty training stage so please, please, please, get your act together!! You are not helping my morning sickness
Dear 3 Day Weekend, I love you! There is nothing like getting a whole extra day to get stuff done!
Dear February 9th, You are only 22 days away and that means in 22 days we get to find out if we are having a Boy or Girl!!!!
Dear Pretty Little Liars, The season premiere so far has been GREAT!! I hate when the episode ends and that I have to wait a whole week to see what happens! OH and can you please not make Toby part of the A team! HA Thanks!
Dear Lance Armstrong, I DON'T CARE!!!! You cheated, great, lets not give you anymore attention…
Dear Baby Ripple, I cannot wait to see you in 21 days and see how much you have grown since 9 weeks!
Until next time!
Love,
Jessica AKA Mrs. Ripple