It's time again for Friday Letters!!!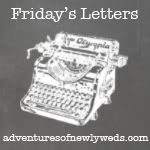 Dear Baby Ripple, I just love hearing your little heartbeat!! We can't wait to find out what you are in 4 weeks or so!!
Dear Bachelor, I am so happy you are back! There was so many things in this weeks episode that just made my week! I'm not going to lie, I am bummed 50 Shades Girl didn't make it. She would have brought pure joy and entertainment every week. I vote for her as the next Bachelorette!
Dear Etsy, Thank you for always having everything that I need. I can not wait to receive my new purchases!
Dear Rebecca Black, Thank you for making the perfect song to sing and hear on a Friday! IT'S FRIDAY, FRIDAY, GOTTA GET DOWN ON FRIDAY!!
Dear Texans, I really hope you win on Sunday!
Until next time!
Love,
Jessica AKA Mrs. Ripple