I decide to start doing Friday Letters again! SOOO here we go!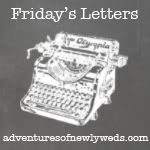 Dear Friday, Thank you for coming quick this week. Even though it was a short week, I was ready for you so that I can catch up on my sleep from last weekend.
Dear Christmas Tree, I love seeing you every year but I dread taking you down this year. If you could just wrap and box yourself up that would be fantastic!
Dear Morning Sickness, I don't understand where you came from. I had none of you during the first trimester then boom here you come during the second trimester. I would be okay if you went away.
Dear Baby Ripple, We are so excited to hear your little heartbeat next week again and hopefully we can get to see you too!
Dear Blog, I am trying to decide if I should switch from wordpress.com to .org…. If something could give me a sign that would be helpful.
Dear Nene Leakes, Thank you for always bringing pure joy and laughter to my week!
Dear Pizza Hut, Thank you for delivering so that I can stay in my comfy pjs.
Dear Once Upon a Time, I just love you and we will be meeting tonight with my pizza.
Dear Husband, Thank you for being so hopefully and understanding lately. You're the best!!
Love,
Jessica AKA Mrs. Ripple