I started following this great blog by Stephanie from Beautiful Mess and I love it! She is a fellow Texan and she is super funny and I love her writing. I noticed on Fridays that she does this post called Friday Letters that is a link up from another blog, Adventures of Newlyweds. What you do is write some little notes to people or things that you just want to say something too! SOOO Here it goes, my first Friday Letters!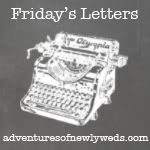 Dear Friday: Thank you for arriving some what quickly this week! I long for you on Mondays and I feel like you are never going to come. So thanks again for rushing this week!
Dear Oreos: While many people love your chocolate sandwich cookie, I cannot stand you! I know harsh, sorry, I just wanted to tell you the truth. I especially dislike you more today due to the fact that I had to see 31 boxes of you being crushed for hours yesterday to make a grooms cake for people I love. You are lucky oreos because if it wasn't for them you would have been in the trash…
Dear Friday 5 o'clock traffic: PLEASE, PLEASE work with me today. I have a wedding to get to at 7:30pm and with out your help I will not be able to make it. I would really appreciate if you would be on my side today. Shoot I will gladly give you a day next week to take it out on me. Deal? Please stay green my friend and not look like this!
Dear Fall Weather: Thank you for coming back into my life, can you stay awhile this time??? I would like to either put my summer clothes away and not have to find them again until next year, K!
Dear Detroit Tigers: Please, Please get it together! We are counting on you boys. Take those Giants DOWN!!!!!!!!!!!!!!
Dear Husband: Thank you for being so great this week! Only one more week until we are in St. Lucia! Love you!
Well I hope everyone has a great Friday and weekend!
Until next time!
Love,
Jessica AKA Mrs. Ripple